Latino Educational Opportunity: A Volume in New Directions for Community College Series
Authors: Catherine L. Horn (Ed.), Stella M. Flores (Ed.), Gary Orfield (Ed.)
Date Published:
April 26, 2006
Although research has increasingly examined the influence of various contributors to Latino educational opportunity, such as immigration policy, language, and academic achievement, the profound and confounding influence of these factors and others not previously considered remains under-explored. The studies presented in this volume of New Directions for Community Colleges aim to foster a better understanding of the ways and extent to which community colleges provide Latino students with educational access and opportunity.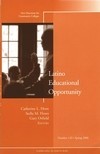 State and federal policy has increasingly looked to the community college to educate Latinos—the largest minority group in the United States—and other students traditionally underrepresented in higher education. Indeed, Latinos enroll in community colleges at rates higher than those for any other racial or ethnic group in the nation.
Latino Educational Opportunity includes chapters representing a range of perspectives and analytical foci, and this volume draws on multiple theoretical foundations rather than a single theory about access to college. Taken together, the chapters suggest that there are differences in how Latino students of different ethnic backgrounds and immigration statuses make choices about college and how they fare in these institutions in comparison to students from other racial and ethnic backgrounds.
Published by Jossey-Bass, Latino Educational Opportunity is edited in part by Gary Orfield, professor at the Harvard Graduate School of Education and director and co-founder of The Civil Rights Project at Harvard University, Stella M. Flores, a doctoral candidate at the Harvard Graduate School of Education, and Catherine L. Horn a consulting researcher for The Civil Rights Project. The project was also funded in part by the Pew Hispanic Center. Other contributors include Mariana Alfonso, Thomas Bailey, Jorge Chapa, Gloria Crisp, Sara Goldrick-Rab, Michal Kurlaender, Timothy Leinbach, Ann E. Person, James E. Rosenbaum, Werner Schink, and Kathleen M. Shaw.
Document Actions